Heroes Con
Heroes Con
is coming up in a week! I will be at
Indie Island
, sharing some space with Stephen Floyd of
One Percent Press
. I'll have copies of
The Ride Home
,
Tales of Unusual Circumstace
, and
The Late-Night Gang
(making it's first appearance at a larger show) for sale.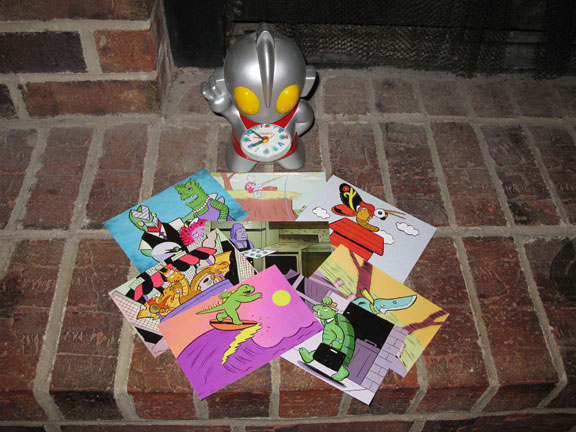 Also, making their convention debut will be a postcard set of my
Kaiju Life
illustration series, which will be available individually and as a set!
This will be my first time attending Heroes Con, but from what I hear, original art and sketches are popular at this event. I think this year I'm going to just feel it out, and not bring up any of my original pages, but I will be selling 5.5"x7" custom ink drawings, probably around $10 each depending on a variety of factors. In preparation for this, I went out and purchased a fancy brush pen, some nice paper, and a
Pandapple
bag to carry my supplies in! I was itching to try out my new pen, and to get some practice drawing superheroes, so here are the sample drawings that I will be bringing to the show:
The final sketch is an example of something that was a bit more complex, with several characters, overlapping elements, etc, that I would charge a little more for. But that kind of discussion can come up at the show. These 4 sample sketches will be on sale, but as I did them at home, put a *little* more care into them, and since they are more specifically for the purpose of examples for my table, I will ask a little more for them as well.
I hope to see you at the show! If you'll be there, please stop by my table and say "hi!"