Mermin 3 On Sale Now! + Review, Fan Art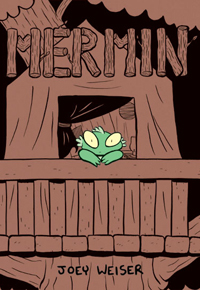 Mermin

issue 3 is on sale now at my online store!
The issue did well at SPX where it debuted, but I've still got plenty of copies for mail order. There are also copies at the Athens, GA comic shop the Bizzaro Wuxtry, and I hear that
Mermin
1-3 are also in stock at Charlotte, NC's
Heroes Aren't Hard to Find
! If you are a retailer interested in carrying
Mermin
, send me an email at
joey[at]tragic-planet[dot]com
and we can work something out!
Speaking of Mermin 3, it was recently given a nice review over at
The Comics Waiting Room
:
MERMIN has balanced humor and absurdity through its first two issues. However, issue three takes a different step, raising the actual stakes for Mermin and throwing an intense action sequence into the mix.

Also, the incredible artist Doug Frey has drawn
a totally great piece of Mermin art
! After taking a look at that, I encourage you to
check out the rest of his blog
for more fantastic work.